The Vulcan Crew has launched a partner poi DVD! This will definitely help spread partner poi around the world.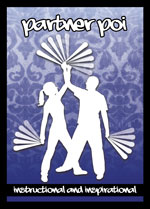 The DVD covers the gamut of what is currently known to be possible with partner poi, and it lays a firm foundation of vocabulary and concepts. Sometimes it goes through the material quickly. Fear not, the more friends you get together the greater your power to understand the lessons will grow!
A lot of the material requires advanced prerequisites (flowers, pendulum control, hybrids etc). If you're not at this level we suggest focusing on the beginning of each chapter. Also, some of the patterns we consider basic are at the end, so watch the whole DVD through once and don't feel like you need to learn the moves in order.
If you want to learn partner poi we suggest ordering this DVD from homeofpoi.com or flowtoys.com. Enjoy and remember partner poi is always a good excuse to hug somebody!